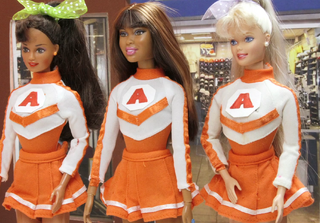 The Atchinson High Cheer Squad was the enemy cheer squad of the Overland Park Cheer Squad. The Atchinson squad takes pride in holding themselves to a higher standard, often withholding from cursing and disciplining each other when slip ups occur. Their colours are orange and white.
"
Every cheer squad is entitled to occupy the immediate area of their sesquare mall and or shopping plaza and are barred from entering the mall and or shopping plaza belonging to any other cheer squad without prior written consent.
"
—Kansas Mall Law, recited by Trisha
During Episode 18 while Mackenzie is meeting Brittnay and Trisha Cappelletti at the mall, they are approached by Taylor, an ex-Overland Park Cheerleader, who is backed by team captain Tanya Berkowitz and a girl also named Trisha (reffered to as Trisha 2).Mackenzie reminds them that they are breaking Kansas mall law by doing so, and has Trisha recite the law that supports this. They have apparently been banned since something referred to as the "Water Park Incident" had occured. Tanya however informs them that upon suggestion of her new co-cheer squad captain (Taylor) that they plan on taking over the Overland Park Mall. They are doing this after Jenna Darabond threw a "Brookstone combination electric blanket/back massager" into a fountain that burned down their mall, according to Trisha 2 (who had no idea that Jenna was the culprit).
Tanya makes a deal with the cheer squad that if they are able to beat them at Cheer Nationals, they will disband the Atchison High Cheer Squad, leave the mall, and will never bother them again. However, if the Atchison cheer squad wins, the Overland Park mall will be theirs. In episode 30, the Overland Park Cheer Squad wins Cheer Nationals with the help of former Atchison member Deandra and keeps Oak Park Mall. However, Tanya is not content with this and rants on them with swears, much to Taylor's joy and surprise and joins in. In retaliation, Mackenzie, Brittnay and Trisha rant back. Because of Tanya, the former 2 lost their dreams to become famous.
Head Cheerleader: Tanya Berkowitz
Members: Taylor McDevitt (Co-Captain)
Former members: Trisha 2 and Deandra
Temporary members: Ashley Katchadorian (during Cheer Nationals)
Appearance
Edit
Unlike the Overland Park cheer uniform, the Atchinson cheer uniform is white and orange with an "A" writted on an octagon attached. Also the uniform appears to be more conservative than the Overland Park uniform reinforcing the "higher standard" that the Atchinson girls hold themselves to. The uniform is from a special edition 1996 University of Illinois Cheerleader Barbie.
See Collector's Info for more information and where to buy
Atchison happens to be the school that Deandra had transferred from, and, like all locations in MPGIS, is based on an actual area of Kansas.
Their school mascot is the jaguar.
While challenging the Overland Park Cheer Squad they made a reference to the popular 2000s chearleading movie series Bring It On.