This article is a stub. You can help The Most Popular Girls In School Wiki by expanding it.
"
Oh well, I've been in color guard this semester, so—
"
—Episode 39
Jennifer McMinnimen is a student at Overland Park High School. She is a part of the Color Guard, which has kept her busy until Episode 39 in the flashback sequence.
Personality
Edit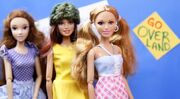 Jennifer is gossipy, yet honest. She supposedly has not told a lie since third grade. It is possible that she is lying about that.
Appearance
Edit
Doll: Mattel Barbie Life in the Dreamhouse Raquelle and Summer Summer
Where to Buy: Amazon
Her hair is in 2 pigtails, resembling Shay Van Buren's hair style. She is seen wearing a light blue tank top and a pink and white skirt. 
Biography
Edit
Relationships
Edit
She seems to be on good terms with the cheer squad, as Brittnay Matthews considers her a reliable source. She is the one who told Brittnay that Saison Margeurite was from Montreal.
Episode Appearances
Edit
She hasn't told a lie since the third grade (and, according to her, it was to save a young boy's life).
Her doll is an updated version of Shay Van Buren's doll.
When Saison had her baby in the cafeteria, Jennifer was in the lunch line behind Deandra (and in front of Jenna Dapananian and one of Amberlynn Weggers' friends).
Ad blocker interference detected!
Wikia is a free-to-use site that makes money from advertising. We have a modified experience for viewers using ad blockers

Wikia is not accessible if you've made further modifications. Remove the custom ad blocker rule(s) and the page will load as expected.