This article is a stub. You can help The Most Popular Girls In School Wiki by expanding it.
"
That is gonna be one. Huge. Shit.
"
—Episode 5
Lunch Lady Belinda is an employee at Overland Park High School as the school's lunch lady.
Personality
Edit
Little is known about her personal life, but her attitude is shown as tiresome and easily annoyed by the Overland Park students and her job in general. She seems to have had a hard life, or at least a life of plain misery. In Episode 19 she reveals she has had "a few miscarriages", and these miscarriages could be a source of deep pain for her. She cannot be at school after dark by court order, indicating that she may have some judicial problems. She is 57 years old and apparently unmarried.
Appearance
Edit
Doll: Mother Gothel Doll
Where to Buy: The Disney Store
Lunch Lady Belinda is a woman in her late fifties with curly black hair, that's always contained in a green hairnet. She wears a floral apron, while serving lunch at Overland Park High School, over her flannel shirt, which originally is from a Fashionistas Cutie Ken.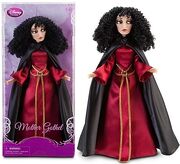 Alternatively, Lunch Lady Belinda have been wearing the old Cheer Squard unifrom, when going to Cheer Tryouts in
Episode 26
, and an outfit consisting of a pair of blue overalls and a pink shirt with yellow sleeves during her trip to Paris in
Season 5
.
Biography
Edit
Early Life
Edit
Season 2
Edit
Relationships
Edit
Everybody knows her due to being the only (shown) lunch server. 
In her first appearance in Episode 5, she seems annoyed by Saison Margeurite due to her constantly asking for French cuisine that is never on the menu.
She also seemed quite aggravated during Saison and Blaine's prom photos (Episode 12) telling them that "The babies you are going to make tonight are going to be so stupid."
It is hinted (in an obvious way) that she has a strange fixation for Cameron Van Buren, but the feeling isn't mutual, and Cameron talks down to her about her job of "still giving people diarrhea for a living". She also refers to her as "Camie"
She was also the loudest (and only) one cheering for Cameron in Episode 13.
She is also seen hitting on the Santa at the Oak Park Mall in Episode 38 and it is revealed that she and Santa had an affair three years before.
Episode Appearances
Edit
Character Blogs
Edit
Lunch Lady Belinda can be reached at LadyTaterTot@gmail.com.
Her food is said to be "melted down otter pops" and "mostly sawdust and rat meat"
In episode 19, she mentions that she has had several miscarriages in the past.
She would like to be a cheerleader, but didn't make the squad in episode 26.
According to the August 2, 2017 livestream, the big twist in Episode 13 was that Belinda was going to be revealed to be Mackenzie's mother; that idea was quickly scrapped.