This article is a stub. You can help The Most Popular Girls In School Wiki by expanding it.
"
And then the few weekends a year he does decide to grace us with his presence, he's surprised that after a day of taking care of his goddamn children and his diabetic dog, who needs an insulin shot in the morning and at night, you don't really have the energy to crawl around on all fours acting grateful that his three inch half-chub has decided to make an appearance. No, honey, the thought of the thirty-seconds of pump and grunt that you call sex has nothing to do with why I haven't been able to get wet in the last ten years!
"
—Episode 52
Pamela Darabond is the ex-wife of former senator Darren Darabond and the mother of Jenna Darabond.
Personality
Edit
Appearance
Edit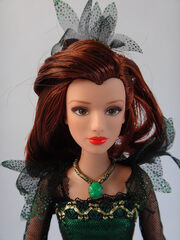 Doll: Evanora
Where to Buy: Unknown
Pamela Darabond is shown to be wearing the clothes from Barbie "I Can Be President 2012". Also the same clothes that Jeannie Halverstad wears. The doll is Oz Great and Powerful "Evanora".
Biography
Edit
Relationships
Edit
Episode Appearances
Edit
Ad blocker interference detected!
Wikia is a free-to-use site that makes money from advertising. We have a modified experience for viewers using ad blockers

Wikia is not accessible if you've made further modifications. Remove the custom ad blocker rule(s) and the page will load as expected.