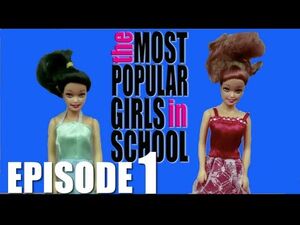 This article is a stub. You can help The Most Popular Girls In School Wiki by expanding it.
Season 1 is the first season of "The Most Popular Girls in School" and consists of 13 episodes. Season 1 first aired on May 1st, 2012 and ended on November 13, 2012.
Deandra is a new student to Overland Park High School and is thrown into a turf war between the Overland Park Cheer Squad, Mackenzie Zales, Brittnay Matthews, and Trisha Cappelletti and the Van Burens, Shay, Cameron, and their younger sister, Mikayla. Deandra is apporached by the Van Burens and is asked to be part of their war against the Cheer Sqaud. Deandra agrees and also agrees to Mackenzie Zales' offer to join the Cheer Sqaud. Once both sides discover that Deandra is acting as a double agent, they brutally rip her arms off. On prom night, Shay and Mackenzie are anxious to see who won prom queen, but discover that Rachel Tice and Judith Dinsmore were secretly creating a plan to insure that Rachel became prom queen. 
Main Cast
Edit
Guest Cast
Edit
| № | Name | Length | Upload Date |
| --- | --- | --- | --- |
Ad blocker interference detected!
Wikia is a free-to-use site that makes money from advertising. We have a modified experience for viewers using ad blockers

Wikia is not accessible if you've made further modifications. Remove the custom ad blocker rule(s) and the page will load as expected.